Description: Horizontal seam roofs consist of copper pans, whose long dimension runs horizontally across a roof, attached to horizontal wood nailers. At each nailer a step is used to allow adjacent pans to lock effectively. The height and spacing of the steps may be varied or additional steps may be included between locks to achieve different appearances.

The copper pans may be supported by rigid insulation, inserted between nailers, or by wood sheathing applied over the nailers. The table below shows the recommended dimensions for copper pans based on their width ( dimension D in Details B and C).

Expansion in the vertical (transverse) direction is accommodated by the steps and locks between pans. In the horizontal (longitudinal) direction expansion joints or vertical battens are required for runs 30' to 40'. Expansion seams must be staggered on adjacent pans to avoid excessive thickness of copper at the locks.

Special Conditions: For roof slopes less than 4" per foot, and areas where ice, snow or heavy rain conditions occur, see Roofing Systems - Special Roofing Design and Installation Considerations.

Decking Requirements: Any type of smooth flat roof deck.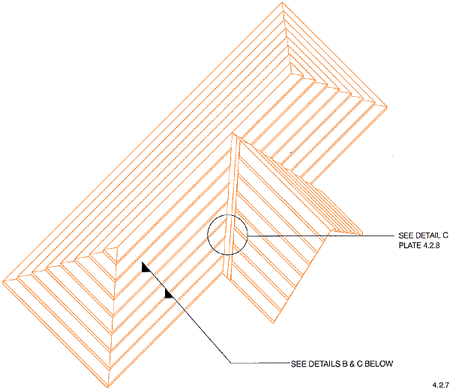 A. Typical Horizontal Seam Roof This overall view of a horizontal seam roof shows the basic concept.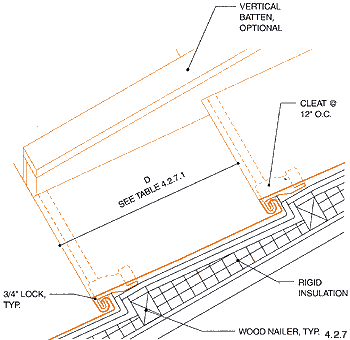 B. Steep Pitch Detail This detail shows typical copper pans for roof slopes of at least 6" per foot. The pans are joined with 3/4" locks with cleats secured to the wood nailers. The locks should be laid down against the vertical face of the nailers.
Dimension D, the width of the pans, is used to determine the recommended thickness of copper sheet.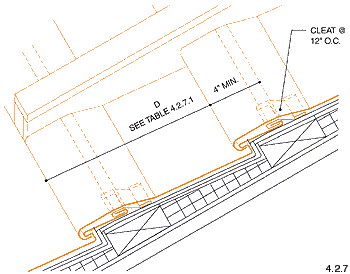 C. Low Pitch Detail The detail shown is for low pitch conditions. See Special Conditions above for recommendations.
Under these conditions the lower pans are formed with a 3/4" lock and extended at least 4" onto the next higher step, where they are secured by cleats. The lower edge of the upper pan is folded under 3/4" and hooked over the locking edge of the lower pan. The lock should be laid down against the vertical face of the nailers.
Dimension D, the width of the pans, is used to determine the recommended gage of copper sheet.
Table 4.2.7.1 Typical Horizontal Seam Roofing Pan Dimensions
Width of Sheet
(inches)
Width of Pan, "D"
Copper
(Ounces)
Steep Pitch
(Inches)
Low Pitch
(Inches)
18
14-1/2
10-1/4
16
20
16-1/2
12-1/4
16
22
18-1/2
14-1/4
16
24
20-1/2
16-1/4
20
26
22-1/2
18-1/4
20
28
24-1/2
20-1/4
20
Note: Assuming step height of 1-1/2"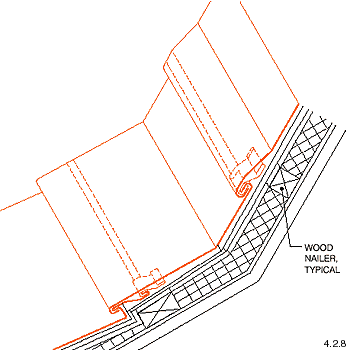 A. Change of Slope Without Step The detail shown is one method of handling a change in roof slope. The adjacent pans are joined with a seam similar to a typical transverse seam for low slope conditions. The cleats securing the pans are attached to wood nailers at 12" O.C.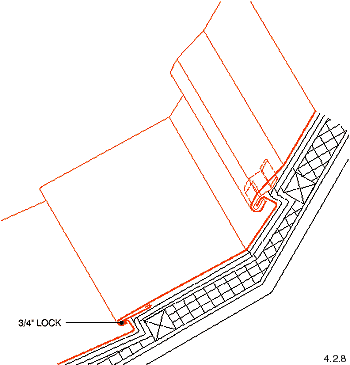 B. Change of Slope With Step This detail is for conditions similar to Detail A, except that a step exists below the upper nailer. This detail shows a lock similar to that used on typical steep pitch horizontal roofs.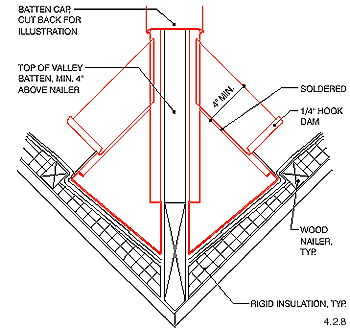 C. Valley Detail - Steep Pitch The valley detail shown is for roofs with a slope of least 6" per foot. The low slope detail is similar.
A valley batten, with a height at least 4" higher than adjacent wood nailers, runs the full length of the valley. A small sheet of copper, 4" wide, is used for additional protection. This piece extends at least 6" onto the nailers, rigid insulation, or wood sheathing and is terminated with a 1/4" dam. The lower edge must be soldered to the copper pans below.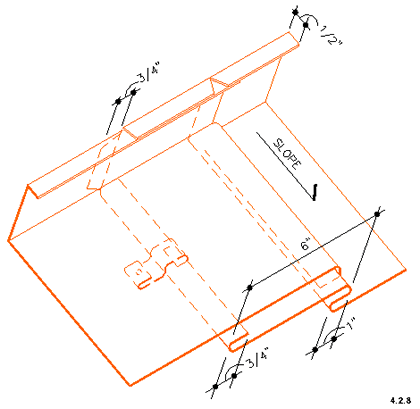 D. Expansion Seam Detail This detail shows a typical transverse seam. Transverse seams are used instead of vertical battens to allow for expansion on roofs that run more than 25 feet horizontally.
One pan has a 1" lock double-folded 6" from the end and a 3/4" fold at the edge, into which a cleat is locked. The adjacent pan is folded under 1" at the end, and hooked into the matching lock of the lower pan.
Transverse seams should be staggered to avoid excessive thickness of material at the horizontal locks.
For Additional Information:
Equipment Available: A variety of tools such as mallets and pan folders are available.