Copper Enhances Manufactured Home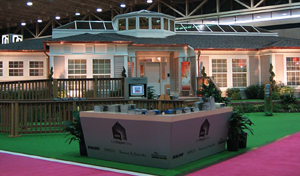 Most of the 70,000 attendees at the Inter-national Builders Show in Dallas this past January were exposed to the LifeStages Home - and more than 3,000 of them stood in line, sometimes for up to an hour, to study this prime showcase for the many benefits of copper plumbing and architectural products in a manufactured home.
The prototype was built by Fleetwood Homes, Riverside, California, one of the nation's largest builders of manufactured housing. Partners associated with this project include Builder Magazine, Masco Corporation, Devereaux & Associates, the architects, and the Copper Development Association.
The house was targeted at the burgeoning active-adult homebuying market. It is designed to accommodate families with "bounceback" children as easily as those with one spouse requiring nursing care. Low-maintenance building products were specified with the special needs of mature homeowners in mind.
"We used copper because it's a quality material that provides a quality look," says Sandy Fennell, senior designer, Devereaux & Associates, Fairfax, Virginia. "We also used copper to counter the bias that quality materials don't belong in manufactured housing."
Copper Exceeds Competitive Materials
Copper is used for roof flashing, gutters and downspouts on the 2,600-square- foot home. Copper flashing is not only more attractive than competitive materials, but offers low maintenance and a long service life.
And, unlike most other flashing materials, copper seldom needs to be replaced, even during re-roofing. For gutters and downspouts, copper is more attractive than galvanized steel or aluminum. And it won't deteriorate as fast.
Inside the home, a custom-made, copper-laminate countertop and custom-made copper range hood add to the appeal of the kitchen. These items maintain their appealing appearance because they can withstand the damaging environment of the kitchen.
Copper is also used for water and gas distribution. Among its many benefits for water distribution, copper plumbing is impermeable and biostatic; contaminants can't penetrate it, and it actually inhibits the growth of harmful bacteria. Because of its rigidity, copper tube requires few supports and won't sag over long runs. In addition, it can handle extreme temperatures.
The advantages of copper tube for distributing gas are its flexibility, ability to be bent to tight radii, easy joining and its availability in long lengths. These characteristics lead to easier, cleaner, less-time-consuming installations and significantly lower installed costs when compared to either black steel or corrugated stainless steel.
"The LifeStages Home shows all those interested in building or owning homes that copper is helpful, cost-effective and useful in more ways than is commonly known," says Fennell. The LifeStages Home is slated to be re-erected later this year as a model home sales center in a suburb of Dallas.
Fleetwood Homes: 909/351-3796
Also in this Issue:
Copper Enhances Manufactured Home
Archives:
2010   |   2009   |   2008   |   2007   |   2006   |   2005   |   2004   |   2003   |   2002   |   2001   |   2000   |   1999   |   1998   |   1997   |   1996   |   1995   |   1994   |   1993   |   1992   |   1991