Copper Cable Enables High-Speed Communications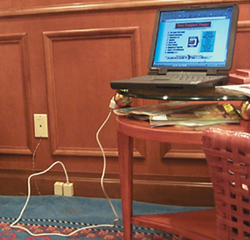 There are millions of small businesses and professionals that need to speed their access to the Internet yet can't afford today's wide-bandwidth solutions, with one shining exception-digital subscriber line. DSL technology is very affordable both in terms of initial investment and monthly operating charges because it utilizes what's already in every building-copper wire.
DSL does, however, require the quick and easy installation of a cigar-box-size modem. One leading supplier of these compact devices is Copper Mountain Networks, Inc., Palo Alto, California. Other communications services buy the modems from Copper Mountain and offer them to customers to implement much faster access to the Internet.
One of the many happy beneficiaries of wide-bandwidth DSL is Bryan Dass. Such capability is one of the attractions Managing Director Dass uses to fill the newly renovated Casablanca Hotel in midtown Manhattan.
The "boutique" hotel, which opened two years ago in a 70-year-old building after a $4 million renovation, has only 48 rooms or suites. Guests can plug their laptops into an outlet in the phone base to call up Web sites or send e-mail in a flash. There's also a PC in the lounge, naturally called Rick's Cafe, available to any guest who wants to tap into the Internet.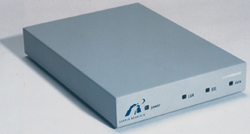 Compact modems like this one from Copper Mountain Networks implement broadband DSL service.

Provided by Atwork Network, Redwood City, California, the DSL service is based on a modem from Copper Mountain. The 24-hour-a-day service costs $195 per month, a great saving over its closest competitor, T-l service, quoted at $1,200 per month. Installation was only $700, a fraction of the cost of T-1 installation, about $4,500, or a fiber-optic connection that would cost even more.



The six-story hotel was most recently a rooming house. It was built in the 1920s as the Hotel Rosoff. Today, it's an upscale hostelry with a Moroccan decor fitting its name. Many of the fixtures and decorations are made of brass or copper. Rooms or suites at the hotel can be reserved through the Internet.

According to Laurie Falconer, a consultant with TeleChoice, Inc., a Verona, N.J.-based communications consultancy, DSL works best with Category 5 wiring.

Atwork Network: 888/297-9675
Casablanca Hotel: 212/869-1212
Copper Mountain: 650/858-8500
TeleChoice: 918/274-0251
Also in this Issue:
Copper Cable Enables High-Speed Communications
Archives:
2010   |   2009   |   2008   |   2007   |   2006   |   2005   |   2004   |   2003   |   2002   |   2001   |   2000   |   1999   |   1998   |   1997   |   1996   |   1995   |   1994   |   1993   |   1992   |   1991