Copper Consumer Products Draw Attention, Grow in Sales
Consumer and general products accounted for the consumption of about 624 million pounds of copper and copper alloy metals in 1990 - about 10 percent of all copper markets. And, the market appears to be growing.
According to the New York Times, The New York International Gift Fair featured home accessories of copper, brass and bronze, "replacing chrome in lamps, vases and cigarette lighters," in addition to bronze salt and pepper shakers, pepper mills and candlesticks.
Also in the Gift Fair, which attracted more than 2,200 exhibitors from around the world, were bronze flatware, lamps with copper mesh shades, and copper-and-bronze place mats.
Another Times story reports that a 34-year-old architect in New York City uses a blowtorch to incorporate copper water tube into vases, candlesticks, and chandeliers. These home accessories, crafted by David Bergman, are available from his downtown architectural office, the Whitney Museum's "Store Next Door," and other retail outlets.
American Airlines' "Air Traveler" catalogue offers southwestern wind chimes for $49.95 - "handcrafted in copper with an already weathered verdigris finish [a forced blue-green patina], a charming addition to the patio or porch."
Copper Match Book
Unique among copper consumer items is an antique copper-covered book of matches. It was a promotional piece distributed decades ago by Anaconda Copper, and is now offered for sale by Murray Lubliner, a New York marketing consultant who was once in the match folder business.
Copper Post Cards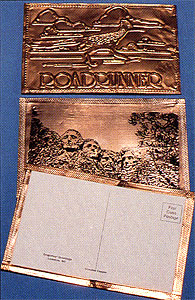 Distinctive post cards made of pure copper are produced and sold by at least two companies in the U.S. - Gregorian, Inc., Lemmon, South Dakota, and Kopper Kard, West Jordan, Utah.
According to Gregorian's general manager, Doug Petersen, the cards are made from 0.004-inch thick copper rolls. The copper is cut to size, and folded around a blank post card. Images are stamped in black paint on the copper-sheathed card and then lacquered.
For retailers who want personalized cards, Gregorian will imprint the store name, state or area. Petersen says Gregorian will also make completely customized cards for clients. The company offers point-of-purchase displays for retailers.
Kopper Kard offers about 2,000 embossed designs in its copper post card line.
Also in this Issue:
Copper Consumer Products Draw Attention, Grow in Sales
Archives:
2010   |   2009   |   2008   |   2007   |   2006   |   2005   |   2004   |   2003   |   2002   |   2001   |   2000   |   1999   |   1998   |   1997   |   1996   |   1995   |   1994   |   1993   |   1992   |   1991