Copper Powers "New Generation" Trolleys
To reduce central-city pollution and speed travel, trolley lines are proliferating around North America and the world. Thousands of tons of copper are needed for the current boom in the new generation of trolleys, also known as "light rail vehicles" (LRVs), mostly for motors (including copper rotors), substations, catenary cables, inverters, controls, communications, air- conditioning systems, windshield defrosters/demisters and in expanded or new power plants.
The latest trolleys are a big improvement over the ones that ran decades ago, now mostly scrapped. The most obvious improvements are the quieter, faster, smoother ride; air conditioning; communications with dispatchers; and entrances level with station platforms, so that the elderly, disabled and parents with kids in strollers can enter and exit quickly and easily.
Constructing new LRV systems or refurbishing old ones costs hundreds of millions and even billions of dollars. Nevertheless, cities and regional authorities around the world are plowing ahead with plans to develop the new generation of efficient, rider-friendly systems.
Copper Rotors Essential
Unlike old-time trolleys, which were driven by DC motors, today's LRVs use more efficient AC motors. High voltage AC from local power sources is converted into DC at a standard 750 volts at substations located at three-mile intervals along the track. The DC is delivered from overhead catenary cables to pantographs on the roofs of the LRVs.
Semiconductor-based inverters convert the DC into lower voltage, three-phase AC for the induction drive motors.
According to Siemens Engineer Andreas Joeckel, Siemens uses copper instead of aluminum for the squirrel cage of its drive motors because of the following demanding requirements:
Many stop-and-go cycles
Many thermal cycles-vehicle also has to be able to start in winter at -30°C
Rather high maximum speed of the motor (with high circumferential acceleration)
Heavy mechanical vibration from the track
High power density (due to the cramped space between the drive wheels)
High efficiency
Long life of about 30 years
"These demands force nearly every manufacturer of traction equipment to make the rotor cage out of copper instead of aluminum in spite of increased cost; this is a remarkable divergence from many of our induction motors for industrial applications," stated Joeckel. These rotor cages consist of 36 to 48 copper bars and 2 copper end rings. The bars are driven into the rotor iron stack and brazed to the end rings. This is more labor intensive than casting but less then swaging. (See Copper Topics issue No. 92 for the latest on casting of copper rotors.)
The LRV inverters made by Siemens use about 150 pounds of copper busbar each, according to David Popp, an engineer with Siemens LRV group. The busbars are supplied by Swift Atlanta, Inc., Suwanee, Georgia, and Metco, Inc., Anderson, South Carolina. In addition, Siemens uses a lot of "Exane" Transit Industry copper cable, 4/0 AWG, purchased from Electro Wire, Inc., Leominster, Massachusetts.
Regenerative Braking
Additional energy savings in LRVs are achieved through regenerative braking when the AC drive motors are switched to alternator mode. This converts the momentum of fast LRVs into electricity. The electricity that is generated by braking is pumped back into the power grid.

For nearly all LRVs, power is delivered to them via overhead catenary cables and pantographs, often seen on old-time trolleys and present-day electric railroads. One notable exception is the "AirTrain." This $1.5 billion, 13-mile-long LRV system is under construction the Port Authority of New York & New Jersey (PANYNJ).

It will connect New York's JFK Airport to two stations in the borough of Queens served by railroads, subways and buses. These driverless units will receive their power from third rails just like subway trains. The AirTrain was designed, according to a spokesman for the PANYNJ, to be extended at some future time into Manhattan so that users will be able to ride all the way to JFK without changing trains.
Many LRV Systems
Planned In North America, new LRV systems are operating, or under construction, in New York, San Francisco, New Jersey, the Santa Clara Valley, Los Angeles, St. Louis, Detroit, Portland, Denver, Pittsburgh, Sacramento, Salt Lake City, Baltimore, Houston and Orlando, in Calgary and Vancouver in Canada, and in Guadalajara, Mexico, among other localities.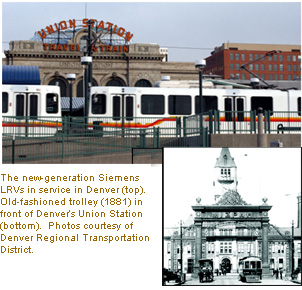 LRVs greatly reduce air pollution in metropolitan environments because they obtain their energy from power plants that are often located far from city centers. When commuters and visitors switch from cars and buses to LRVs, noxious fumes and ozone depleting carbon dioxide from internal combustion engines are eliminated. In addition, power plants converting fuels into electricity generate much less pollution than automotive engines. Power plants are twice as efficient as buses in converting fuel into electricity for traction.
Bombardier: 800-268-0030
Siemens: 800-964-4114
Electro Wire: 978-534-5300
Swift : 770-945-1084
Metco: 864-225-8319
Toshiba: 800-231-1412
Also in this Issue:
Copper Powers "New Generation" Trolleys
Archives:
2010   |   2009   |   2008   |   2007   |   2006   |   2005   |   2004   |   2003   |   2002   |   2001   |   2000   |   1999   |   1998   |   1997   |   1996   |   1995   |   1994   |   1993   |   1992   |   1991