New York Thrives on Copper
Cities around the world depend upon copper for their complex urban infrastructure. New York City is a prime example. Huge amounts of copper are needed to power, ventilate, illuminate, protect, deliver water and ultimately beautify the city.
Copper electrifies today's modern metropolis. The seven million New Yorkers and the 1.5 million who commute each working day into the Big Apple depend heavily on copper. Most of this is hidden from view: the generators and transformers feeding many hundreds of miles of copper delivering power in city subways and commuter rail lines; all the wire and cable in factories, businesses and homes; the street and traffic lights throughout the city; and all the copper wires that connect the millions of phones, fax machines and on-line com-puters to the rest of the world. Another example of why copper is essential to downtown density are the large electric motors it takes to lift the high-speed elevators essential to the functioning of office, hotel and residential skyscrapers.
New York also requires tremendous amounts of durable copper plumbing tube to provide water to its many office buildings and homes. Even Andrew Carnegie specified copper plumbing in 1898 when he built his great mansion (now the Cooper-Hewitt Museum, see photo below) on Fifth Avenue at 91st Street. He insisted on copper instead of the then commonly used iron piping. The Scotch-born philanthropist, the most-famous steelmaker of his day, learned his lesson the hard way. When he built his great New York concert hall, opened just seven years prior, he had specified iron. The iron plumbing didn't last and has long since been replaced by copper tube. Copper tube also plays an integral role in heating, ventilating and air-conditioning systems. And here's still another area where copper-wound motors are needed to move the conditioned air throughout thousands of buildings.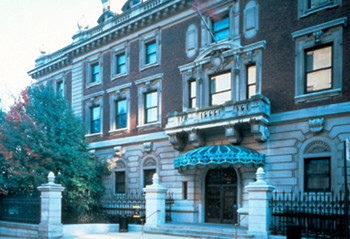 Architects Favor Copper
Of course there is much copper visible in cities. Many of New York's most famous buildings are graced with attractively patinated copper and/or sparkling brass: there's long-lasting copper roofing on buildings such as Grand Central Terminal (see Copper Topics No. 86) and the Cooper-Hewitt Design Museum at 91st Street and Fifth Avenue (see photo); a beautiful prepatinated, copper wall-cladding application on the American Museum of Natural History abutting the striking new Rose Space Center (see photo); and an eye-catching brass façade on the front of Trump Tower, the upscale mall/office building on Fifth Avenue (see photo). And then there's the 179,200 pounds of copper forming the outer skin of the Statue of Liberty, America's most recognized national monument.
The standing-seam copper roof on the Trump Building at 40 Wall Street (cover photo) is a testament to the durability of mankind's first metal: the 4'x10' roof panels have endured high winds and winter storms for almost 70 years. Three years ago, 10,000 square feet of the 52,000-square-foot copper roof was replaced by Universal Steeplejacks, Chestnut Ridge, New York. The new panels, made out of cold-rolled sheet copper, were fabricated by Ex-Tech Industries, New York. This building held its brief place in history for several months back in 1930 as the tallest building in the world at 72 stories-until the Chrysler Building, also in New York, was completed shortly thereafter.
One reason there's so much visible copper in New York, and other cities, is that so many of the nation's architects prize copper and its many alloys for their eye appeal, ease of fabrication and durability. Some of the more notable names include James Polshek, who designed the copper-panel walls at the Museum of Natural History, Stephen B. Jacobs, who designed the restoration of the Library Hotel (see photo) and Lee Harris Pomeroy (see "A Towering Achievement").
Various sources provided the copper in the many examples mentioned here. The prepatinated copper panels for the walls at the Museum of Natural History were supplied by Revere Copper Products and fabricated by the firm of J. Pohl in Salt Lake City, Utah. The addition of 24-ounce copper cladding on the Library Hotel was installed by Industrial Metal Works, New York, and supplied by Unimet, Orange, New Jersey. Visible or not, copper is, and will always be, an essential ingredient supporting the growth and smooth operation of the world's cities... towns and villages too.
Ex-Tech Industries: 718/786-1774
Industrial Metal Works: 718/264-7433
Jacobs: 212/421-3712
Pohl: 801/323-9993
Polshek: 212/807-7171
Revere: 800/448-1776
Unimet: 973/673-5700
Universal Steeplejacks: 914/352-1234
Also in this Issue:
New York Thrives on Copper
Archives:
2010   |   2009   |   2008   |   2007   |   2006   |   2005   |   2004   |   2003   |   2002   |   2001   |   2000   |   1999   |   1998   |   1997   |   1996   |   1995   |   1994   |   1993   |   1992   |   1991