The Flint Water Crisis pulled the curtain back – it's no longer a secret that up to 10 million American households connect to water through lead pipes and service lines. But the question remains, how will these 9.2 million lines buried across the country be removed and replaced?
With federal and non-federal funding sources available to assist states and water utilities with lead service line replacement (LSLR), it's time to focus on selecting a safe, long-lasting replacement material. As economically alluring as it might be to pursue patchwork solutions or use cheaper materials, it is a sign of strong leadership to invest in a long-term solution that prioritizes the health and safety of residents.
What to Look for when Replacing Lead Service Lines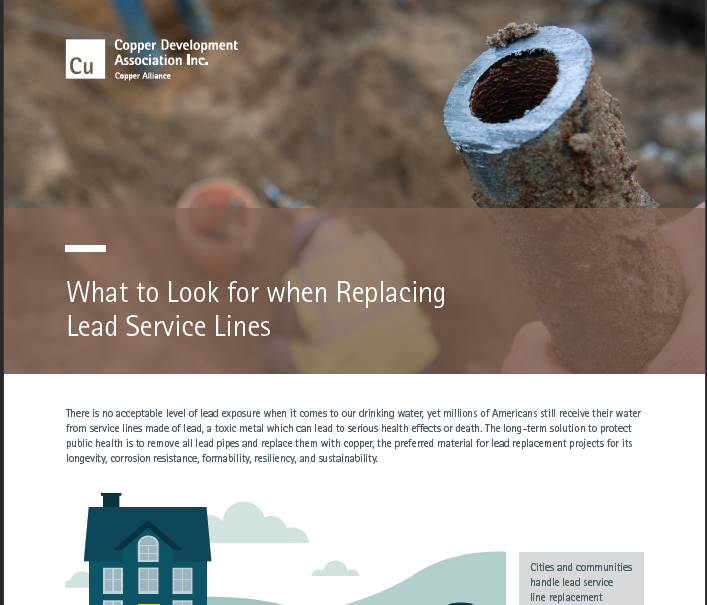 Improper installation techniques can lead to failure or unnecessary repair. For proper copper service line installation, ensure installers follow these directives.
READ MORE
Copper: The Right Choice for Water Service Lines

Lead was once the preferred material for water service line installations. Copper and other materials have since taken its place in new construction, as well as in routine replacement. Discover why copper is now the most widely used plumbing material in the developed world. View PDF
Health Effects and Safe Drinking Water: The Real Story

Despite the fact that copper is regulated by the USEPA Lead and Copper Rule, its consumption is necessary for human health. The ingestion of lead, on the other hand, poses real, chronic health risks. View PDF
The False Initial Cost Economy

An analysis of the cost comparisons for replacing lead service lines is examined based on the life cycle cost and the total cost of ownership.View PDF
Who is Choosing Copper Now

Copper has been the preferred material for underground water service lines for the past 50 years. Learn why municipalities continue to use copper and why many select this age-old metal for their lead service line replacement projects. View PDF
Case Studies: Lead Service Line Replacement Projects

See how five major communities fixed their lead service line problem.
View PDF
Technical Assistance
Because we know the health and safety of your community is upmost importance to you, CDA would be happy to partner with you to provide additional educational materials or technical services to ensure your residents once again have faith in their water system.