June 10, 2005
FOR IMMEDIATE RELEASE
George M. Hartley, 82, former president of the Copper Development Association Inc., died June 4 in Hilton Head, S.C.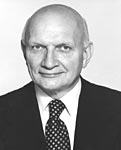 George M. Hartley
1922 - 2005

Hartley was tapped by the copper industry to launch CDA in April 1963. During his 27 years at the helm, he introduced imaginative and innovative marketing and promotion campaigns that stimulated the industry to new heights. He developed full-scale prototypes of ships, automobiles and houses to demonstrate the advantages of using copper. During his tenure, the computer-based Copper Data Center and the copper alloy designation system were put in place, as were the data collection procedures used to chart mill activity and copper consumption that are used today.



Current CDA President Andy Kireta Sr. praised Hartley for his vigor, tenacity and forward thinking, "Our industry has lost one of its pioneer leaders and a great friend."

Hartley was a metallurgical engineer with a broad international background in sales, manufacturing and general management. After a Navy tour during World War II, Hartley joined the General Electric Co. There he held key executive positions in materials engineering, sales and plant management over the course of 16 years. In 1961, he relocated to Switzerland to become president and managing director of an international group of companies in the specialty metals and chemicals field. Two years later, he was back home, taking charge of CDA, from which he retired in 1990.

Hartley is survived by his wife, Louise, and three daughters.

###

The Copper Development Association is the information, education, market and technical development arm of the copper, brass and bronze industries in the USA.

Learn more at our Blog thinkcopper.org.

Follow us on Twitter at @ThinkCopperUSA.