November 2006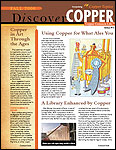 Using Copper for What Ales You


At one time or another, every beer drinker encounters an uncharacteristically sour or "skunky" beer. A primary cause of this is hydrogen sulfide, which is a normal byproduct of the fermentation process.

According to a study cited in the Technical Quarterly of the Master Brewers Association of the Americas, researchers have determined the most efficient way of containing this unwanted byproduct is through the use of copper.

To eliminate the hydrogen sulfide, a small amount of copper is introduced to the fermenting beer via two copper electrodes. The copper interacts with the hydrogen sulfide to form copper sulfide, which is easily removed from the final fermented product. Tests have shown that this process is capable of reducing the amount of hydrogen sulfide to undetectable levels. So, next time you enjoy a cold one, copper probably played an important role in delivering the wonderful taste!
August 2006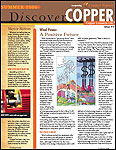 Wind Power: A Positive Future


With consumers in "gas pump shock," environmental issues looming and the economy threatened by recent oil price hikes, wind power is increasingly being promoted as a viable source of alternative commercial energy.

The advantages of wind energy are numerous. Randall Swisher, executive director, American Wind Energy Association (AWEA), states, "Wind energy is a clean, safe, domestic, abundant and affordable energy source and one of the best options we have for new power generation."

According to AWEA, the production of wind-generated power this year will surpass that of 2005, which broke all existing records. Last year, wind turbines capable of producing 2,400 megawatts (MW) of power were installed in 22 states, bringing the total amount wind of wind generated power in the USA to 9,149 MW, enough to serve the equivalent of 2.3 million homes.

Mark Haller, president, Haller Wind Consulting, says, "The wind industry is in a very steep growth curve, and prospects for integrating wind power into the normal energy mix in America are very good. We're only seeing the beginning of a long-term growth industry."
May 2006