Market Copper, Market Your Homes
In a recent national survey, two out of three homebuyers expressed a preference for copper over other plumbing materials. As a participant in the Builder Satisfaction Program, you already understand that using copper tube, wire and architectural products gives you opportunities to market the quality of your homes and enhance your reputation in the eyes of prospective buyers.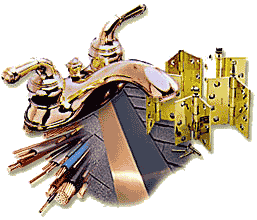 Here is a wealth of information and strategies to help you make the most of those opportunities:
Homebuyers Prefer Copper
Provides text and audio clips featuring building professionals and homebuyers on the reasons that copper is the material of choice for residential plumbing systems.
Benefits of Copper Plumbing
Provides an overview of the long-term advantages you're offering prospective buyers in homes with all-copper water-distribution piping.
Showcasing Your Copper
Showcasing the copper in your homes is the only way that prospective buyers will realize the value it adds. There is really no reason not to tell customers about the quality that's built into your homes, like the copper plumbing system, flexible copper gas distribution system, copper and brass hardware, copper communications wiring and copper architectural products.
Click on the link above for text explanations and video demonstrations on ways that you can comfortably and naturally draw your customers' attention to the copper accents in your homes.
FAQ: Frequently Asked Questions
Anticipates inquiries from consumers that often come up in discussions of home plumbing systems and provides answers that show you're responsive and well informed. Useful answers to some of these commonly raised concerns appear in text, accompanied by audio clips that demonstrate a conversational approach to answering questions on these topics.
You can reinforce these talking points with free support materials, including a 50-Year Manufacturer's Limited Warranty and brochures.