Market Copper as Your Material of Choice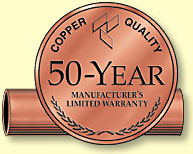 In a recent national survey, two out of three homeowners expressed a preference for copper over other plumbing materials. Builders also prefer copper. So it makes sense to use copper whenever you install plumbing systems. Spend some time and discover why it's everyone's material of choice.
The following marketing resources are available from CDA for you to market copper as your material of choice:
Manufacturer's 50-Year Warranty
Only copper has a 50-Year Manufacturer's Limited Warranty. Find out about it.
Homebuyers Prefer Copper
Building professionals and homebuyers tell you why copper is the material they chose for plumbing.
Benefits of Copper Plumbing
An overview of the long-term advantages you're offering customers with all-copper water distribution piping.
FAQ: Frequently Asked Questions
Answers to questions you may be asked regarding copper's cost, durability, advantages and more.
Marketing Pamphlets
Information you can give your customers about why copper is the best buy in plumbing.