The copper industry is continuously researching methods and materials that will improve the architectural applications of various copper products and systems.

The listing below contains the most recent developments in architectural copper products.
Factory Pre-Patinated Copper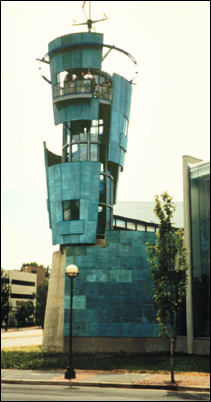 The natural weathering of copper from its bright pink to the characteristic blue-green color (patina) is a direct consequence of its reaction to the corrosive action of the atmosphere. In industrial and seacoast atmospheres, the natural patina generally forms in 5 to 7 years. In rural atmospheres, with relatively clean air, patina formation may occur in 10 to 14 years. In arid desert environments, the patina formation may never occur and the copper surface may remain a dark brown or bronze color.
The large number of requests by the architectural community for a man-made patina has prompted US copper mills to research and develop pre-patinated copper sheet products. The patina is a chemical conversion process whereby the top molecular surface of the copper sheet is enhanced and forced to produce a natural patina.
Since some of the pre-patinated sheets have a variation in their final color, it is recommended that the architect review material samples before final specifications.
Pre-Patinated Copper Manufacturers.
Back to Top
Laminated Copper Systems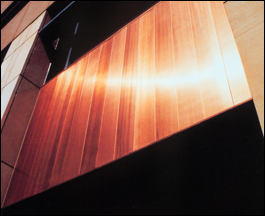 With some exceptions, copper is considered a non-structural element and requires a structural substrate for satisfactory performance.
Demand for either fully or partially structural copper panel systems have lead to the research and development of various composite panelized systems that are lightweight, flat, rigid, corrosion resistant and very strong. The systems are available in various thicknesses from 1/8" to 6 to 8 inches in thickness.
Modern manufacturing methods and materials have allowed the combination of copper, brass and bronze with high performance core material to allow usage of such systems on wall claddings, column covers, roofs, curtainwalls and furniture applications.
For updated information on such systems, contact the Project Managers & Architectural Applications Specialists.
Back to Top
Copper Shingle Systems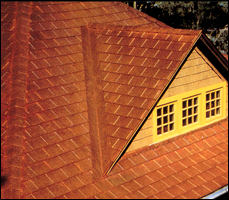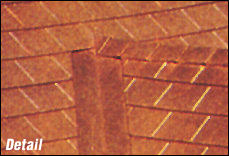 Copper sheets have historically been installed in large, panelized systems giving rise to distinct linear patterns of various vertical seams. These systems have found extensive use on commercial, industrial and institutional projects where large surface areas required a metal "membrane" concept.



In order to allow the use of copper for residential, small scale applications, the US copper industry has developed the copper shingle. Manufactured in either individual tiles or long panels these systems allow the freedom of specifying solid copper shingles for residential or smaller scaled projects requiring high performance, ease of installation and the beauty of copper.

For more information, please consult a listing of Copper Shingle Manufacturers.

Back to Top