Sheet Copper Installation Training Program
(Summer/Fall 2018 Course Dates Full!  Now accepting reservations for Winter/Spring 2019 course dates.)
Designed to provide hands-on training on various architectural sheet copper systems, it is geared toward sheet metal roofing and siding contractors.
Interested contractors must have a suitable shop location with appropriate tools/equipment. Pricing and material/equipment list provided upon request, based on a minimum class size of 10 and two or three days of training.
Inquiries from contractor associations or others wishing to organize group training welcome!
The Installer Training Program combines experienced coppersmith led lectures with hands on instruction. Basic skill instruction progresses to completion of a full-scale system mockup that includes related flashing installation.
Available modules include: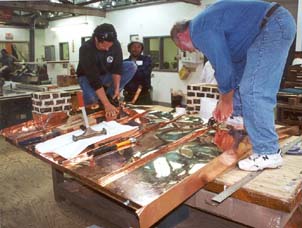 Soldering Techniques (including flat seam soldered roofing)
Standing Seam Roofing
Batten Seam Roofing
Curving Techniques
Flat Seam Wall Cladding
Built-In Gutters
Flashing Systems
Upon program completion, paid attendees will receive a Certificate of Completion for the appropriate modules and firms will be considered for addition to CDA's Contractor Database.
Contact us to schedule installation training for Winter/Spring 2019 today!
Sheet Copper Installation Videos
DVD - Installing Copper Roofing - A contractor-oriented instructional video on architectural sheet metal applications. Six program modules show step-by-step installation procedures of the most common copper roofing systems.


DIY: Do It Proper With Copper Video Series - This section contains 7 DIY architectureal videos, i.e. How-To: Flat Seam Soldered Joint, How-To: Standing Seam, How-To: Vertical Soldering, Lap Seam, etc.