CDA's and CCBDA's commitment to the education and support of the architectural and construction industries has been expanded to include a variety of programs. Some are free and some have minimal charges to offset production costs. Some have approved Educational Learning Units. In all cases, these programs have been instituted in direct response to requests by architects and contractors.
To schedule a training program, please contact our Project Managers & Architectural Applications Specialists.
To review a program's content and description, please click on the specific item:
Educational Video Series
Oasis: Designing a LEED Campus in the Desert
Copper's Role in Phoenix Health Sciences Education Building
CDA, in conjunction with GreenCE, has developed a two-part educational video series, titled "Oasis: Designing a LEED Campus in the Desert," for architects, contractors and construction professionals. The two videos highlight the building materials and craftsmanship of the Health Sciences Education Building project in Phoenix, Arizona, and the design philosophy and strategy behind the sustainable design and construction of this state-of-the-art facility.
Watch 2 full-length videos about this poject, and also learn how you can earn continuing education credits through AIA.
Back to Top
Installer Training
This program is designed to provide hands-on training on various architectural sheet copper systems. It is geared toward the sheet metal contractor, but also approved by the AIA for architectural continuing education.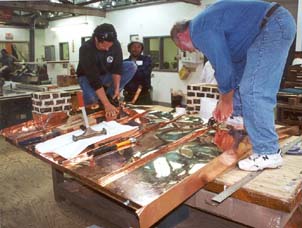 The Installer Training Program combines experienced coppersmith led lectures with hands on instruction. Basic skill instruction progresses to completion of a full scale system mockup that includes related flashing installation.
Available modules include:
Soldering Techniques (including flat seam soldered roofing)
Standing Seam Roofing
Batten Seam Roofing
Curving Techniques
Flat Seam Wall Cladding
Built In Gutters
Flashing Systems
Upon program completion, paid attendees will receive a Certificate of Completion for the appropriate modules and firms will be considered for addition to CDA's Contractor Database.
Architectural attendees qualify for one (1) AIA Learning Unit and one (1) HSW contact hour per hour attended for a maximum of 16 Units/Hours.
Architectural Seminars
Learn more about architectural copper and copper alloys.
Earn AIA and HSW contact hours.
Join us for a box-lunch seminar for an introduction to the architectural uses and applications of copper products. Design basics are discussed and shown graphically. Common practices are examined. Situations to avoid are identified.
This is an hour PowerPoint presentation, followed by a Q and A session.