Browsing
Below is a snapshot of a standard Copper.org web page with major parts highlighted and explained.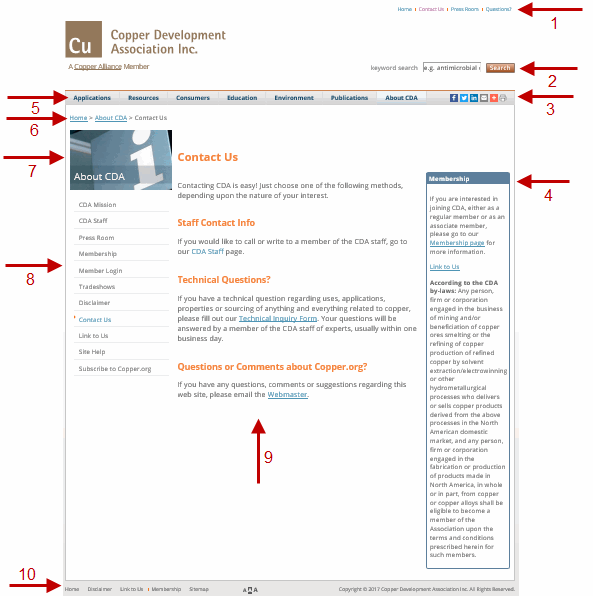 Header Links - the fastest way to Home and Questions? (online request form); the only way to access About CDA, Contact Us, Press Room pages.
Search Box - enables you to search Copper.org from any page by entering keywords.
Utilities Bar - enables you to print , email and share almost any page and also, to adjust the font size .
Right Content Box - contains supporting info for the main content, i.e. Downloadable Resources, Events, Helpful Hints, Sub navigation, etc.
Main Site Navigation - 3 level roll-over menu provides fast access to major sections/subsections of Copper.org. Also, highlights the user's current position.
Section Image/Title - identifies a major section, i.e. About CDA, Publications, etc. Pages within one section share the same Section Image/Title.
Section Navigation - supplements Main Site Navigation by providing up to 2 additional levels of access to pages within major subsections. Also, highlights the user's current position.
Main Content Area - contains main content for the page.
Footer Links - the fastest way to Home, Disclaimer, Link to Us, Membership and Sitemap pages.
Contacting Us
To contact CDA, choose one of the following methods, depending upon the nature of your interest. For Technical inquiries, submit a Questions? form.
Becoming a Member
If you are interested in becoming a member of CDA, learn more about our Membership.
Joining Our Suppliers' Databases
If you are a supplier, installer or contractor who manufactures, sells or works with copper materials or products, you may be eligible to be included in one of our Supplier Databases. These resources help hundreds of customers to locate companies to supply products or services to meet their needs. If you are interested in being listed on one of our supplier directories, please contact us by phone or Email.
Using This Site
Please read our Disclaimer regarding use of the information on this site.