Description: Expansion joints in walls are typically handled with copper waterstops. Waterstops are designed to accommodate movement by flexing. Waterstops run from the footing continuously to the top of the wall, where they are covered by a coping or other flashing.
Above grade waterstops are lapped at least 4" in the direction of flow. Those below grade must be soldered.
Brass or bronze cover plates can be used to cover expansion joints in interior walls. These are similar to the cover plates shown in Plate 4.5.7.
The recommended minimum weight for copper waterstops is 16 oz.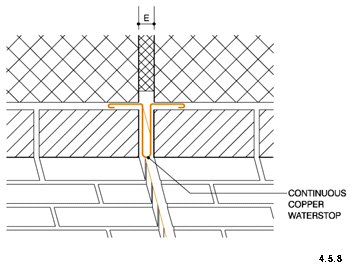 A. Building Expansion Joint in Solid Masonry Wall
A continuous copper waterstop is set in the mortar joint between the brick and the CMU back-up.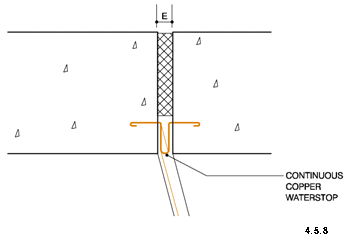 B. Building Expansion Joint in Concrete Wall Below Grade
This detail shows a continuous cast-in-place copper waterstop bridging the space in the wall.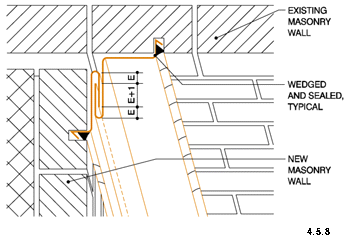 C. Building Expansion Joint - New Wall at Existing Wall
This detail shows a condition where a new masonry wall is constructed perpendicular to an existing wall. A vertical reglet is cut into each wall. Separate copper flashings are inserted, wedged, and sealed into each reglet. A loose lock is used to join the flashings. It must be designed to accommodate the maximum expansion movement, as indicated by "E".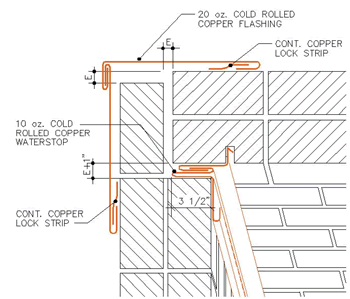 D. Building Expansion Joint at Corner
This detail illustrates how to accommodate expansion in both directions at a building corner. A copper two-piece waterstop that allows movement in two directions is required. The dimensions of each piece should be designed to accommodate the total amount of movement expected.
One side of the waterstop is held in place by brass bolts through a copper bar, while the other side is built into the masonry. The top of the waterstop is lapped by a coping cover. Each 8 to 10 foot length of the waterstop is lapped 4".
The exterior side of the walls is covered by 20 oz. copper flashing, which is held by continuous lock strips. The lock strips should also be designed to accommodate movement.